The Gruesome Game of the Gator Ghoul is episode 3 of the first season of the Scooby Doo Show, and it originally aired on September 25, 1976.
This episode sees the gang in Hokeyfenokee Swamp, in Georgia, where they are visiting Scooby-Dum at the Ma and Pa Skillet house. Here, they discover that Ma and Pa Skillet are being scared out of their Fenokee Fizz business by a Gator creature that is haunting the swamp nearby.
This episode also marks the first appearance of Scooby-Dum, who isn't one of my favourite characters, but everyone else seems to love him.
If you'd like to own this episode on DVD you can buy it on Amazon as part of the Scooby-Doo/Dynomutt collection.
The Gruesome Game of the Gator Ghoul – Episode Review
The episode opens with the Gang driving through Hokeyfenokee Swamp at night. Shaggy\'s a little worried that they are lost, but Freddy assures him that he is following Ma and Pa Skillet\'s directions to a T. Make a right a the old grist mill, left at the cemetery, and then a right at the Snake farm and BAM, you're there.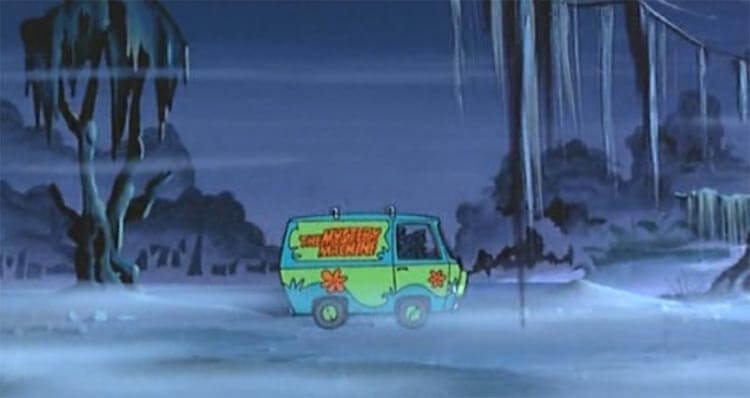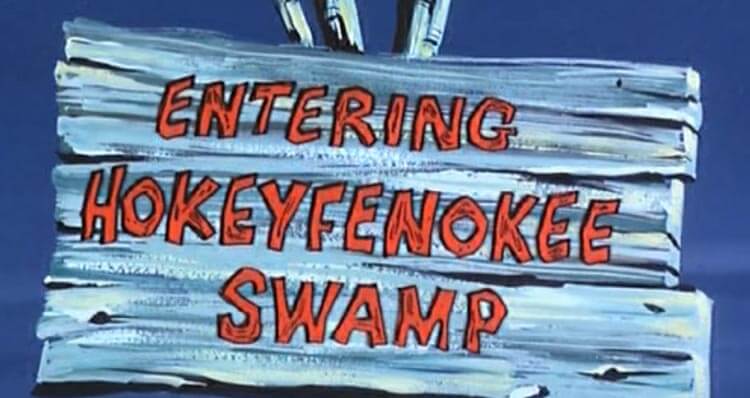 Freddy explains that Ma and Pa Skillet called them down to investigate the Ghost of a Gator Ghoul that has been pestering them. Little does he know that the Gator Ghoul is outside watching them, and casting a yellow tint on the Mystery Machine with his glowing eyes.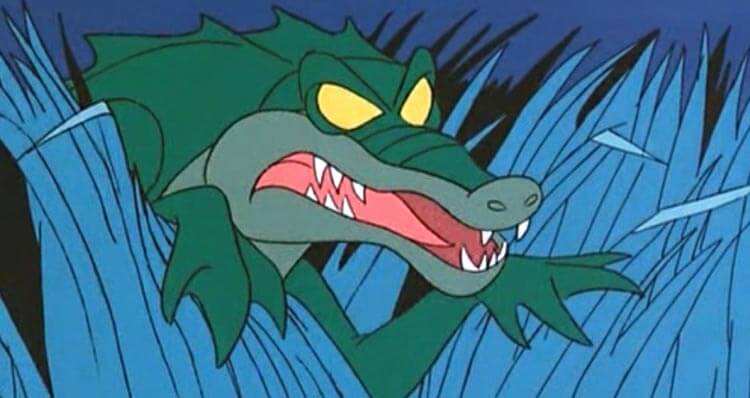 Oblivious to the danger, Daphne asks if Scooby knows Scooby-Dum, and Shaggy replies that they are cousins. This is the first time they'll see each other since they were puppies.  Shaggy is also excited for the Skillet's Super Funky Spicy Fritters, which are famous throughout the state of Georgia, available at Ma and Pa Skillet's Showboat restaurant.
Velma exclaims that the Spicy Fritters are too hot for her tastes, but Shaggy reveals that their Fenokee Fizz soft-drink (which is way better then Kookie Cola) is the perfect foil to putting out the Fritter's heat.
Hopping on a small raft-like ferry, the gang catches their first sighting of the Gator Ghoul – a half-man/half gator, but all ghost monstrosity.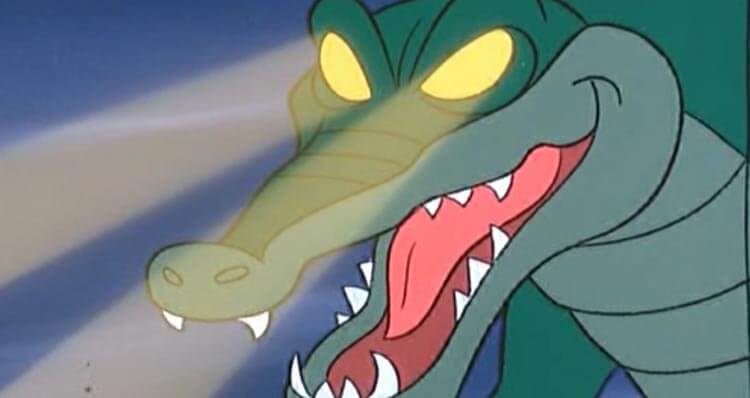 The Ghoul disappears just as fast as he appeared, and the gang continue their trek to the Skillet's Showboat.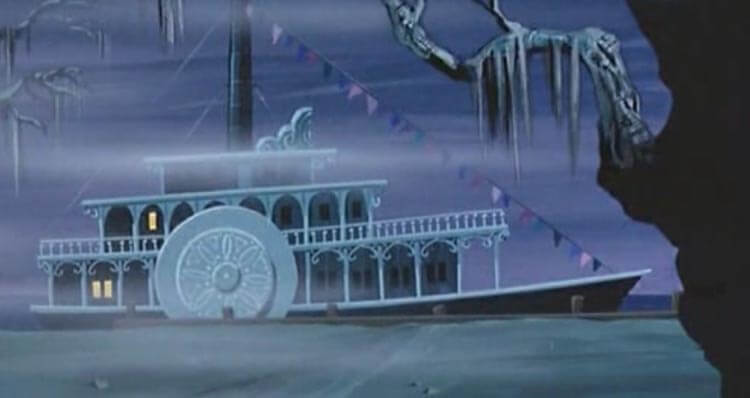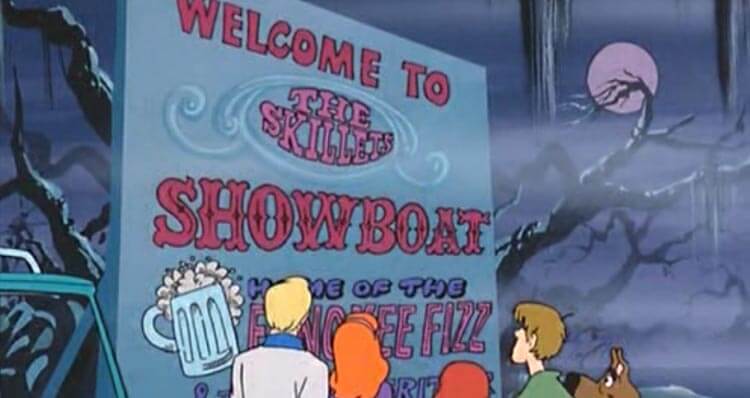 The restaurant inside is completely empty, and Ma Skillet explains that they haven't had any customers in weeks due to the Gator Ghoul. If business doesn't turn around by next week, the bank is going to foreclose their loan.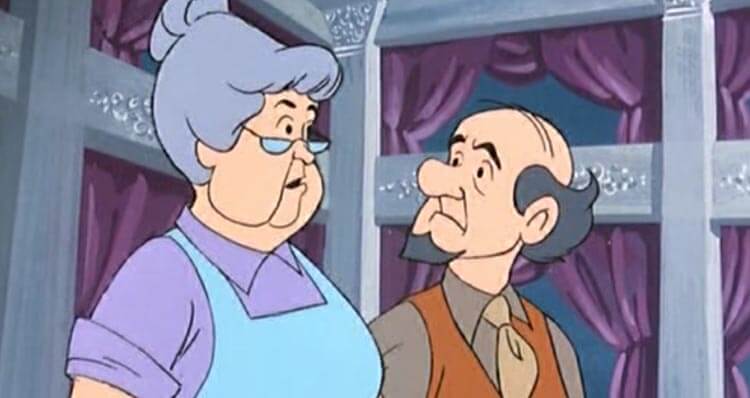 Pa Skillet takes the gang to the Fenokee bottling room, where the bottling machines are sitting idle. Due to the frightening Gator Ghoul, Pa Skillet hasn't even been able to ship his popular product for well over a month as all his workers ran away.
We also learn that Scooby-Dum is studying to become a police dog, and upon hearing for clues, Scooby-Dum breaks out the magnifying glass and gets busy searching. In the process, they run into the Gator Ghoul, and a quick chase emerges until Scooby-Dum accidentally turns on a soda machine that wards off the Gator Ghoul.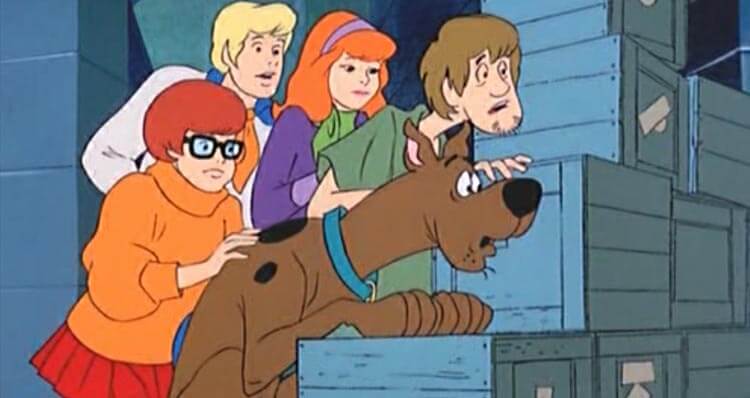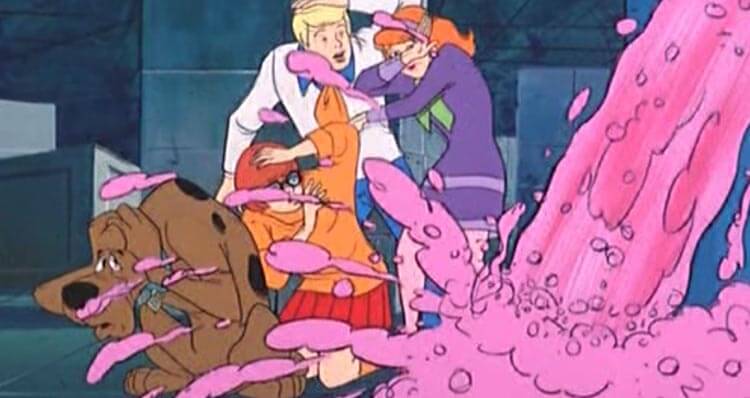 Soon after, the gang bump into Simon Stingy, the restaurant's dishwasher and handyman. They also meet Alice Dovely, the restaurant's maid. Alice has volunteered to work for free to help keep the Skillet's in business. She also loaned them money to help them stay afloat.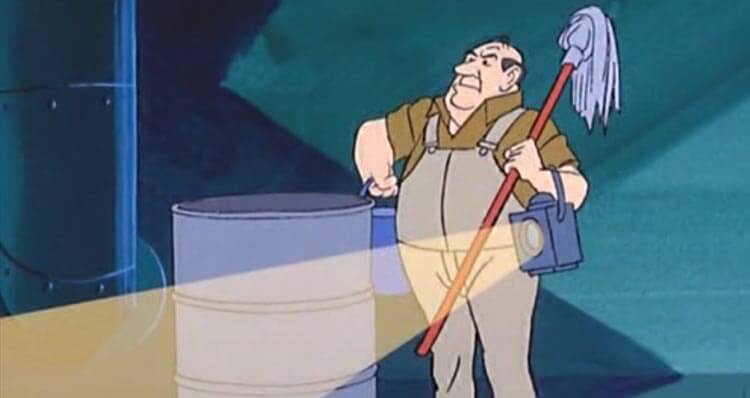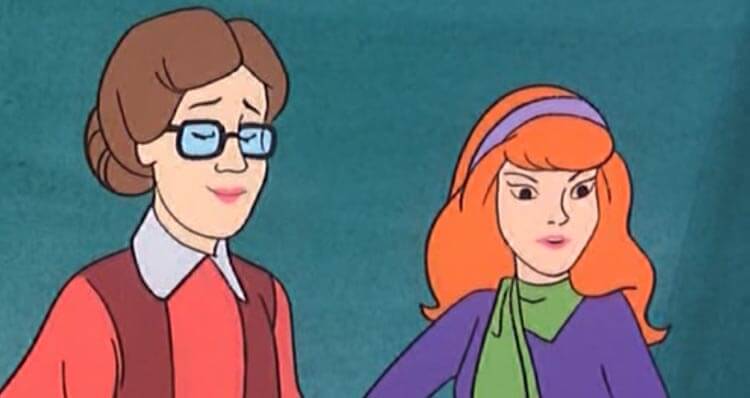 As Simon Stingy is so grumpy, Velma decides they should investigate him further as a suspect. The first spot they check out is Simon\'s cabin. Inside, Freddy discovers a suspicious magazine called "Legend of the Swamp".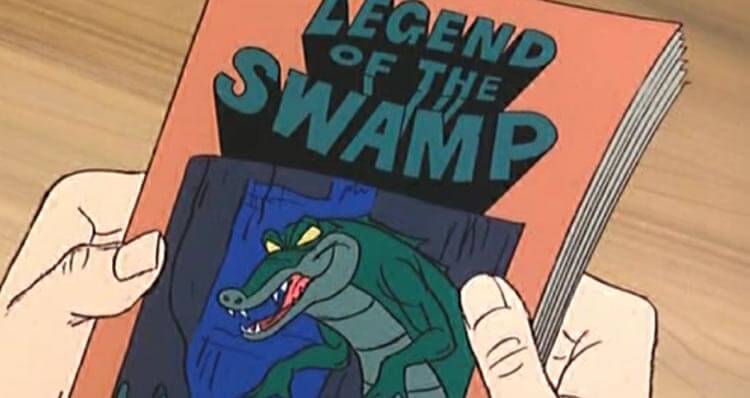 Distressed, the gang return to the Showboat to look for more clues, and it doesn't take long for them to run into the Gator Ghoul. In the events of the chase, Scooby-Dum finds a headless alligator costume with a motor inside. Even more suspicious is a label on the costume states that it is 'Property of Beauregard Film Company.'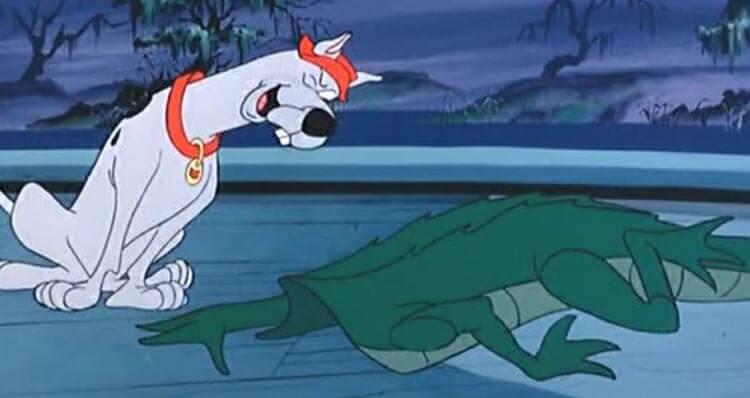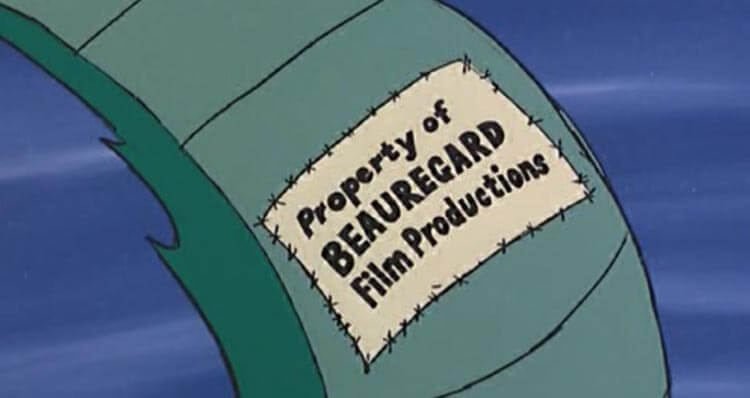 Velma recognises Beauregard as a company that shot a movie in the swamp the year before. She also remembers that most of the movie was filmed in an old shack, so they go investigate. Inside they find a piece of stationary from a rival soda company called Kookie Cola. They also find some shredded pieces of pink paper which they manage to put back together, but it remains illegible.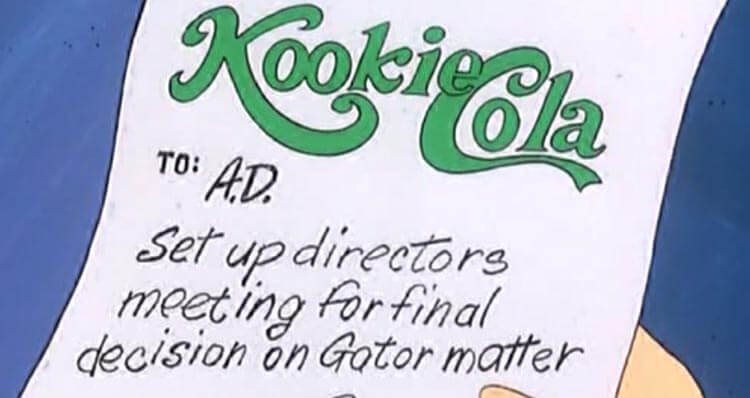 Nearly solving the mystery, Freddy sets a trap using some sticky Fritter batter. The batter trap works and they end up capturing the gator. Before unmasking it, Velma explains she\'s pieced the shredded letter together, and it says \'Notice of Termination from Kookie Cola Company to Alice Dovely.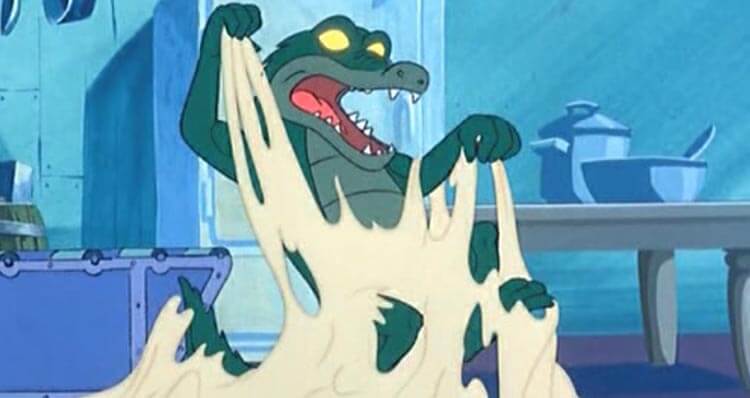 Unmasking the Gator Ghoul, it\'s no other than Alice. After getting fired from the Kookie Cola company, Alice wanted revenge, so she decided to devalue Fenokee Fizz by scaring off the customers, then buying it on the cheap and sell it to the Kookie Cola company to make a fortune.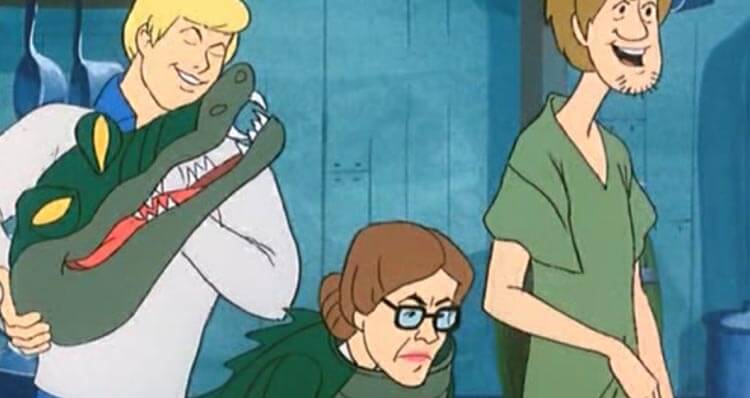 The beaming yellow eyes of the gator ghoul were just battery powered flashlights, and Alice used the alligator head from a costume left behind from the film company to make her Gator Ghoul costume.  With all this evidence, Pa Skillet rings up the sheriff to drag Alice away.\r\n\r\n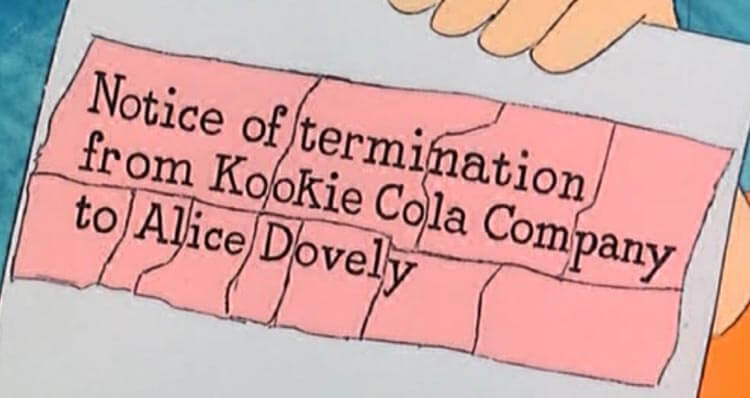 My Thoughts

This episode is awesome!  We've got some fantastic swamp setting, a creative and intimidating monster, as well as several interesting set pieces being explored!
Scooby-Dum is actually entertaining in this episode, as he's quite brave and does his best to ward off the Gator Ghoul.  I liked how they explained how Scooby-Dum was in police dog training to become a detective.  I don't think they mention this in later episodes, but explains why he pulls out a magnifying glass at every clue found.
The jokes are fast and funny in this one, and the rival cola companies is a nice parody of Coca Cola and its competition.  I also adore how most of this episode took place on a showboat.  What a unique setting, I'd definitely eat there!
I also can\'t rave on enough about the Gator Ghoul. This monster is scary! I'm sure it terrified hundreds of kids back in the day and I'm surprised they made it look as sinister as it did. At one point it nearly even took off Shaggy's hand with a hard chomp of its teeth! I loved how this thing crept around, and was sinister enough that not even Freddy would approach it.
Well, that wraps up another mystery! Until next time, see you later Alligator!
Voices
Don Messick: Scooby-Doo, Pa Skillet
Casey Kasem: Shaggy, Simon Stingy
Frank Welker: Freddy, Gator Ghoul
Heather North: Daphne
Pat Stevens: Velma
Daws Butler: Scooby-Dum
Virginia Gregg: Ma Skillet, Alice Dovel