The Spooky Fog is the ninth episode of the New Scooby-Doo Movies and originally aired on November 4, 1972.
In this episode we see the gang encounter the town of Juneberry, where a heavy fog is scaring off the locals. To make matters worse, cattle are being rustled away as well.
Don Knotts plays himself, but is really playing a take on his classic deputy character called Barney Fife from the Andy Griffith Show. We even get a Sheriff named Dandy Griffith, which is a take on Andy Griffith. The Andy Griffith Show took place in Mayberry, and here the episode takes place in Juneberry.
The Andy Griffith show was very popular in the 60s and ran from 1960-1968. Don Knotts would later go on to star in 3's company, which is my favourite role of his as he plays an elderly swinger that puts Austin Powers to shame.
Despite my love of Don Knotts and enjoying his last performance with Guess who's Knott Coming to Dinner, is this episode any good? Let's find out.
The Spooky Fog of Juneberry
The episode begins with the gang driving through a rural desert landscape. The girls are hungry, however, Scooby and Shaggy have eaten the last of their food. Freddy sees a sign for a town called Juneberry, so they stop in there to eat.
The population sign is unusual as the population numbers are going down and down.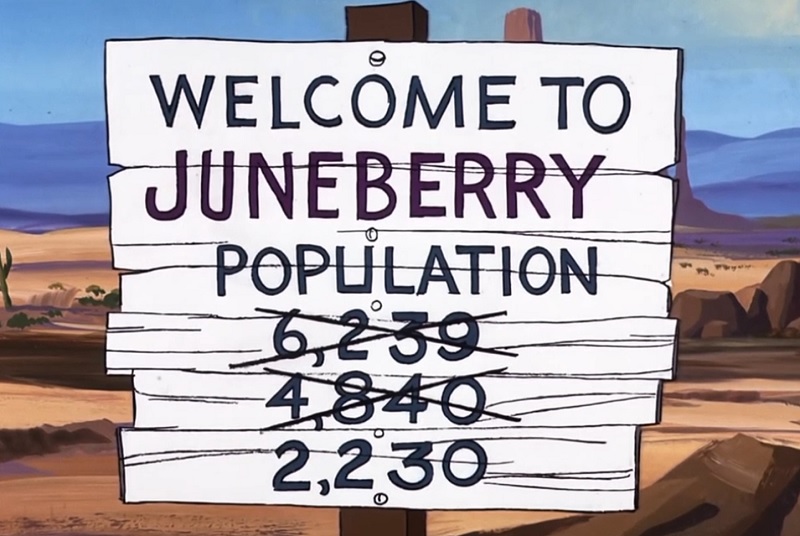 Inside the town, there's an epic thick pea soup style fog, making it difficult for Freddy to drive.
The gang leave the town, and the fog clears up. They don't get too far as they are pulled over by a police officer.
The police officer turns out to be none other than Don Knotts. Don has pulled them over for speeding, but it turns out he had an error with his speedometer. The gang mention they are hungry, so Don decides to escort them back to Juneberry where he can check out this spooky fog.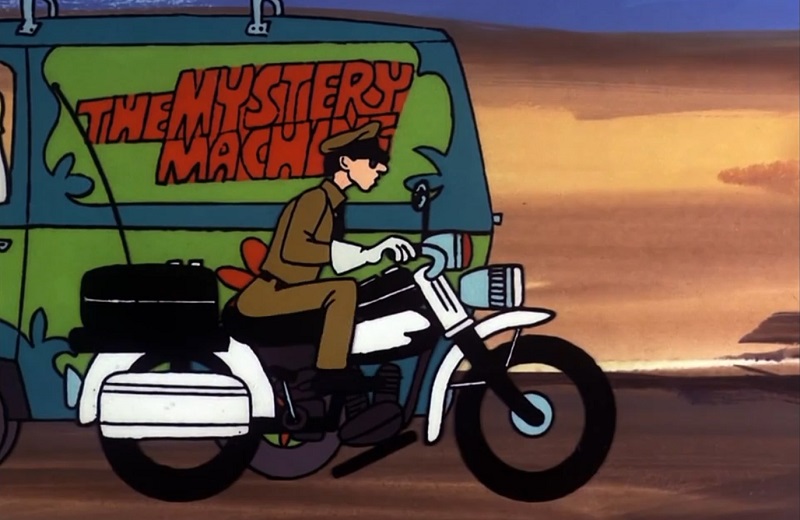 In Juneberry, the fog has lifted, and the gang explore the town. As they pull up, they see that another family is moving out. There they meet the Sheriff Dandy Griffith, and Gene Haultrey the Rancher. Gene complains to the Sheriff that there's too much cattle rustling going on.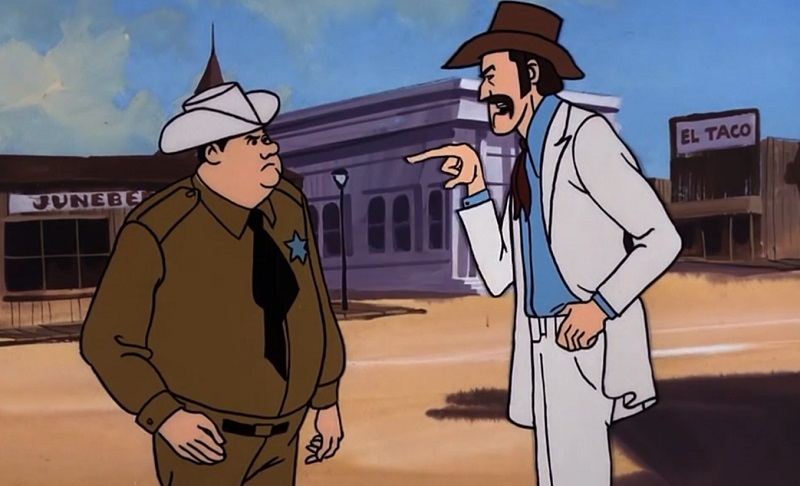 The gang spend the night at the town jail, and Don Knots cooks for everyone. As the gang sleep, they hear a cackle and a horseshoe with a note attached is tossed at Scooby. The note says 'get out of town before it is too late.
The gang wake Don up, and Velma suspects it's Sheriff Dandy who tossed the horseshoe. The gang scheme to make Sheriff Dandy laugh to see if it matched the cackle we heard before, but their attempts fail. Sheriff Dandy is not a jolly fellow.
The fog hits the town once more, making everything dark. Freddy and Velma step out to investigate and hear the ghostly noises once more. Outside they spot some tire tracks, so they russell up the rest of the gang and follow them.
The tracks end at a crushed rock road that leads to Boot Hill Cemetery. It's the spot where the Boot Hill Gang were hung and buried.
At the cemetery, the gang split up with Freddy and Velma going one way, Daphne and Scooby going another, and Shaggy and Don heading off in another direction. Lots of fake scares and shenanigans happen until the gang reunite and a skeleton figure approaches the gang.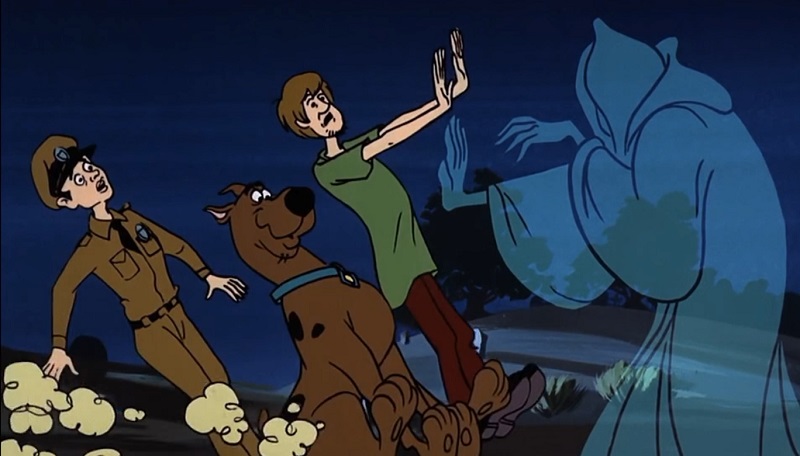 Cowering from the skeleton man, Scooby triggers a trap which opens up an access point in the mountain.
Freddy and the girls take chase after the skeleton man, and Don, Shaggy and Scooby encounter several apparitions.
The gang reunite once more and are forced to head into a tunnel after the drawbridge they walked across is raised. Once again they all split up and we get more scenes of ghosts and hijinks. Freddy and the girls even come across a Brontosaurus which turns out to be an illusion done with projectors, mirrors and sound equipment.
As they forgot their flashlights, most of these cave scenes are incredibly dark, and it's hard to see what's going on. Even on Blu-ray.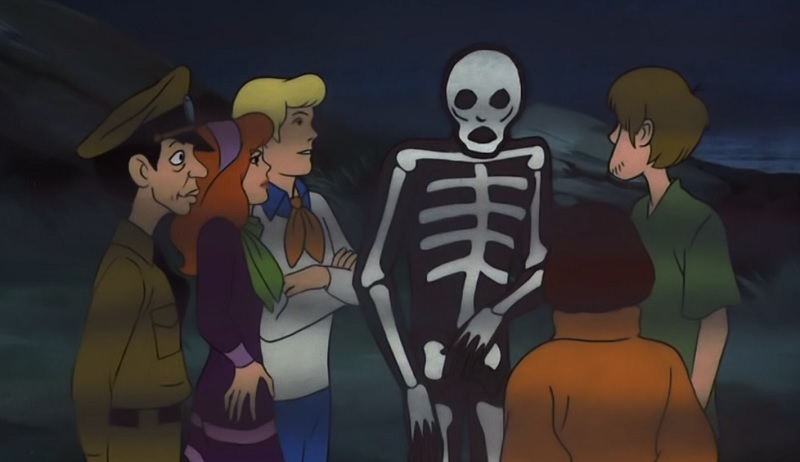 For one last time, the gang reunite, and they come across the skeleton man at his control panel. Don sneezes scaring the Skeleton man off, so we get a long chase scene until the gang finally across him with other skeleton men stealing cattle.
The fog was to hide their trucks as they drove off the cattle.
Freddy comes up with a plan and they capture all the rustlers. Unmasking the main skeleton man, it turns out to be Gene Haultrey, the local rancher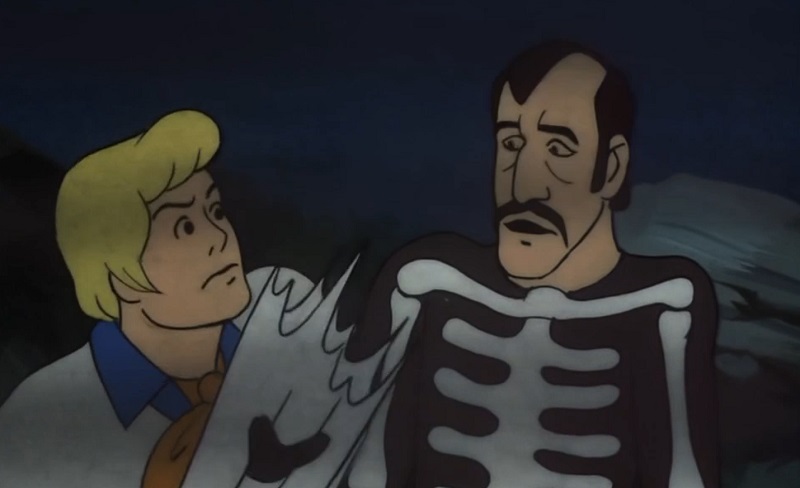 With another mystery solved, the gang head off on their next adventure.
My Thoughts
I give this episode a 5.5 out of 10. This isn't a bad episode, but it's mostly played for laughs.
I also found it way too dark for half this episode, and everything looked muddy.
It was cool seeing Scooby split up with Daphne, as we rarely get that in these earlier episodes.
There are some cool looking ghosts in this episode, but they don't have much personality. Still the designs of a few of them are pretty awesome, with my favourite being the stage coach driven by a skeleton.
The main skeleton man also doesn't have much to do, and the town itself is kinda boring.
The town and fog don't make for a great set piece either as the fog makes it difficult to see anything, so they don't really explore that concept too deep. For an interesting take on a spooky fog, read 'The Mist' by Stephen King.
Don Knotts basically reprises his role from the Andy Griffith show, and he does a great job with what he's given. So if you are a huge Don Knotts fan you might like this episode better than I do.
If you've been watching my reviews, you know I like Spooky better than silly and this episode is mostly played for fun, with the similar plots and gags we've seen dozens of times in this franchise.
Voices:
Don Messick: Scooby-Doo,
Casey Kasem: Shaggy Rogers
Frank Welker: Freddy Jones, Sheriff Dandy Griffith
Heather North: Daphne Blake
Nicole Jaffe: Velma Dinkley
Don Knotts: Himself
Michael Bell: Gene Haultrey